Solace Hospice focuses on improving quality of life through compassionate care for those with a life-limiting illness. Our goal is to allow those that receive hospice to remain independent for as long as possible, as well as provide supportive care to their loved ones.
Hospice is covered 100 percent by Medicare Part A, Medicaid, and most private insurance companies.
Our care is provided by well-trained and experienced doctors, nurses, and other qualified medical professionals.
Hospice care can be received at locations like private homes, hospitals assisted living facilities, other senior care centers or other locations.
What People Are Saying About Us
"How can we begin to thank you for taking care of mom? You truly are the best at what you did. She loved you and we do to. We couldn't have done this without you.

- Family of our Client
"Your staff and fantastic nurses are the best! I will not hesitate to recommend you to anyone I know in need of hospice care services!

- Family of our Client
"Working with Solace was the first time I felt like someone cared for my husband more than money. I am very grateful for the team and want to be like everyone who helped my husband and help others.

- Wife of our Client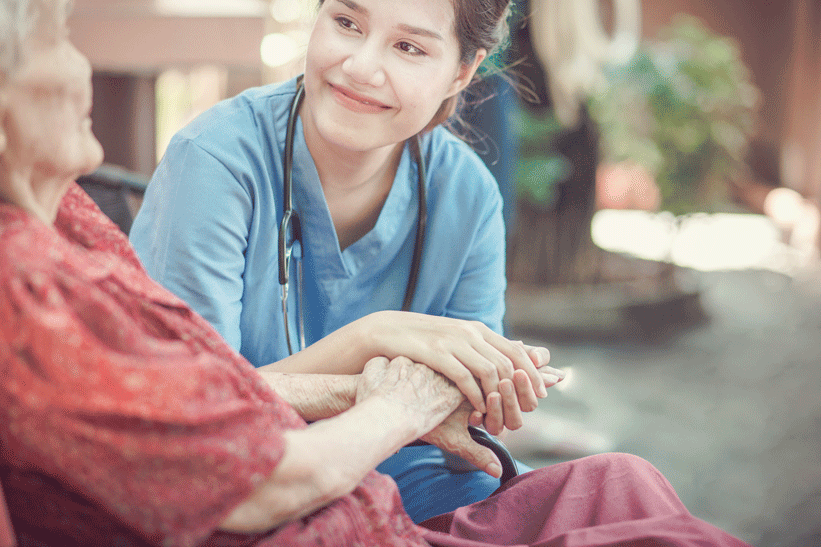 Hospice covers, but is not limited to, the following:
Doctor services (doctor makes home visits to patients when appropriate)
Nursing care (full body assessment, 1-3 visits a week or as needed)
Medical equipment (hospital bed, wheelchair, shower chair, commodes, walkers, etc.)
Medical supplies (all continence supplies, wound supplies, and anything related to the hospice diagnosis)
Medications related to the illness (related to comfort and diagnosis)
Hospice aide services (2-5 visits a week or as needed)
Social work services (help with emotional well-being of patients and families)
Spiritual counseling (1-2 visits a month or as needed)
Dietary counseling (as needed)
Supportive & comfort therapies (2-3 visits a week or a as needed)
Grief and bereavement support for 13 months minimum (as needed)
Learn More
Send Us a Message
Use the contact form below and a member of our team will be in touch within the next business day. If this is an emergency or requires more immediate response, please call our phone number